(1988) SCWC was formed in 1988 by Lou Coleman to encourage woodcarving as a hobby. Al Graff was elected our first president. Robert Helfrich offered his services as secretary. The membership totaled 125. Lou Coleman had arranged for the meeting place at Eau Gallie Civic Center; First meeting was Feb. 4, 1988. Before that the meetings were held at Hoover Junior High School. Meetings were to be held every Thursday. Dues of $5.00 was established. They had a telephone call list used to remind members to come to meetings. They passed the hat and collected money for expenses. George Levingston put all club records on the computer.
(1998) An article in "Florida Today" states that Herb R. was in "sheer boredom" after retiring. While setting at a park, he took his pocket knife to a scrap of wood, and carved a lapel pin.. The next day he sold the carving. Herb went on showing his work at art shows and wrote several books. Herb says, "I just cut away anything that's not a figure. Anyone can do it and membership has always been open to anyone interested in wood carving. President was Richard West, Treasurer was William Bell, Secretary was Helifrich.
Gary Stutts
================================
The following are some of the minutes from 1988. They were called "Space Coast Carvers" for the first meeting only.
January 5, 1988 ---- Lou Coleman called a meeting of woodcarvers and proposed our organization be called the "Space Coast Carvers. 37 people attended but only 30 signed up.Lou had everyone fill in information cards with their name, address, phone number and whether they were beginners or advanced carvers. Also what kind of carving they were interested in. A show of hands as to what day of the week to meet. It was a tie between Tue. and Thur. There were a show of hands as to where to meet. The most voted to meet in Eau Gallie.
January 22, 1988 ---- Meeting held at Eau Gallie Civic Center at 7 PM. 44 in people attended. $44.65 was collected and turned over to Lou Coleman. Al Graff read the minutes of the previous meeting. Lou Coleman arranged for the group to meet every Thursday morning from 9 to 12 at the Eau Gallie Civic Center. 1st. meeting to be Feb 4, 1988 6 people volunteered to assist beginners. George Livingston offered to put all club records on the computer. Al Graff was nominated by Lou Coleman to be president of the "Space Coast Wood Carvers" and was elected by unanimous vote. Robert Helfrich volunteered to be Secretary. Lou Coleman volunteered to be Treasurer.
Feb. 4, 1988 ---- Most of the meeting was a follow-up on things from last meeting. Lou Coleman has obtained this great meting place for us. The meeting to be every Thursday. This facility has been provided by the City of Melbourne Recreational Dept. (Eau Gallie) They have explained their fees and rules to me. The only exception is that they want us to turn our dues over to them. They will keep 30% as the charge for the use of the building and return 70% to the club. Anyone not a resident of the City of Melbourne is subject to an additional charge. For $5 they will issue a membership card. Thank you very much; Let's get started.
================================
They had been meeting at the Eau Gallie Civic Center (The old one.) They started meeting at Carver Park Community Center when the old Eau Gallie center was taken down. In 1994 Eau Gallie said that we could come back but the club decided to stay at Carver Park.
===============================
Past presidents list: ---- 1988 --Al Graff ---- 1989 --Richard West ---- 1991 --Joann Hurley ---- 1993 --Dick West ---- 1995 --Bob graves
1997 --Rocky Wing ---- ???? --John Gallagher ---- 2007 --Karen Perry ---- 2008 --Charles Graves ---- 2011 --Tom Anstett
================================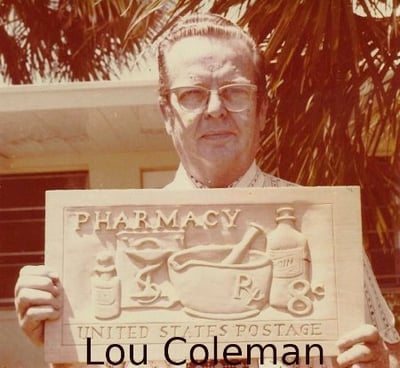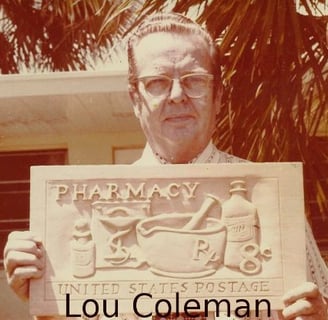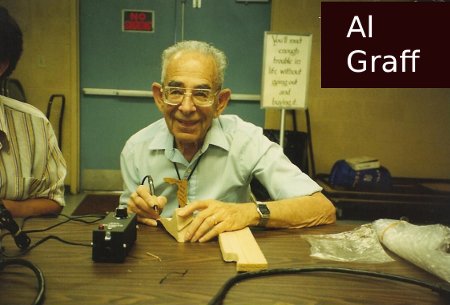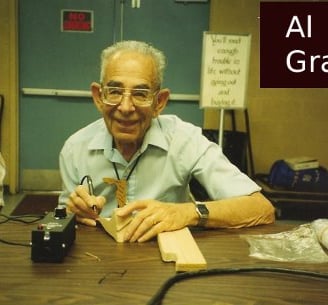 ----------------------------------------------------------------------------------------------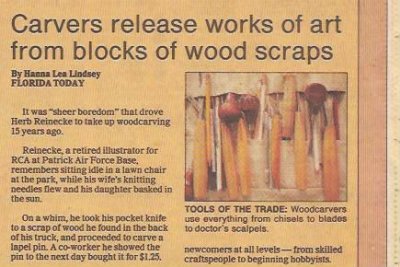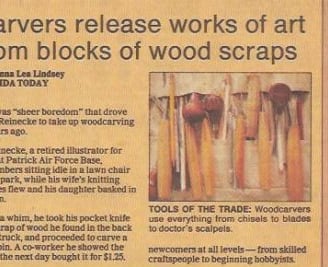 The Good Old Days
When my wife, Jan, and I retired in 1989, we bought a home in Hendersonville, NC and a small coop in Boynton Beach on the Intercoastal Waterway. In Hendersonville, I quickly found Opportunity House, an old A&P store which had been converted to a community center for the arts. They had a wood carving shop, art studio and ceramic shop, etc. There I met Billy Bell and Al Graff, two long-time supporters and active members of our own club her in Melbourne, FL. They both summered just outside Hendersonville and also wintered here in Melbourne. Billy was Treasurer of our club for years and a relief carver who now lives in CA. Al & his wife Natalie now live in Buena Vista and Al occasionally visits us. He loves to carve realistic birds. While in Hendersonville, I also met Lou Coleman who lived on Pineapple street in Eau Gallie and who founded this club. So you can see it was easy for me to look up old acquaintances from Gp House in Hendersonville when we moved to Melbourne in 1990.
Gone too, but not to be forgotten is Dick West who was a President and staunch supporter of this club for many years. Francis Snow, who among other items, carved full-sized carousel horses and still lives in Melbourne. Another oldie who moved to Viera and doesn't drive this way anymore is Art Spedding, whose last major piece was a full-sized Heron, carved for his wife, Judith.
Yours truly also carves realistic birds and only started carving in the small coop utility closet in 1987 when he got bored in Florida and chanced meeting Bill Stern who wintered in Florida and was a member of the Boynton Beach carving club and OP House in Hendersonville. He gave me my first cutout and said I only needed an Exacto knife!!
As the saying goes "Baby, have we came a long way!"
Al Meier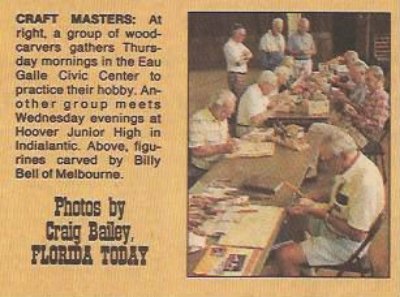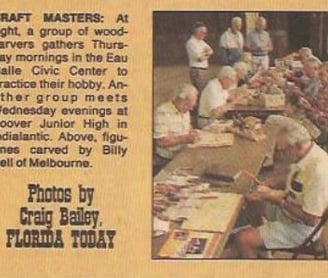 Florida Today article, 1989
Carvers at a meeting, 1989